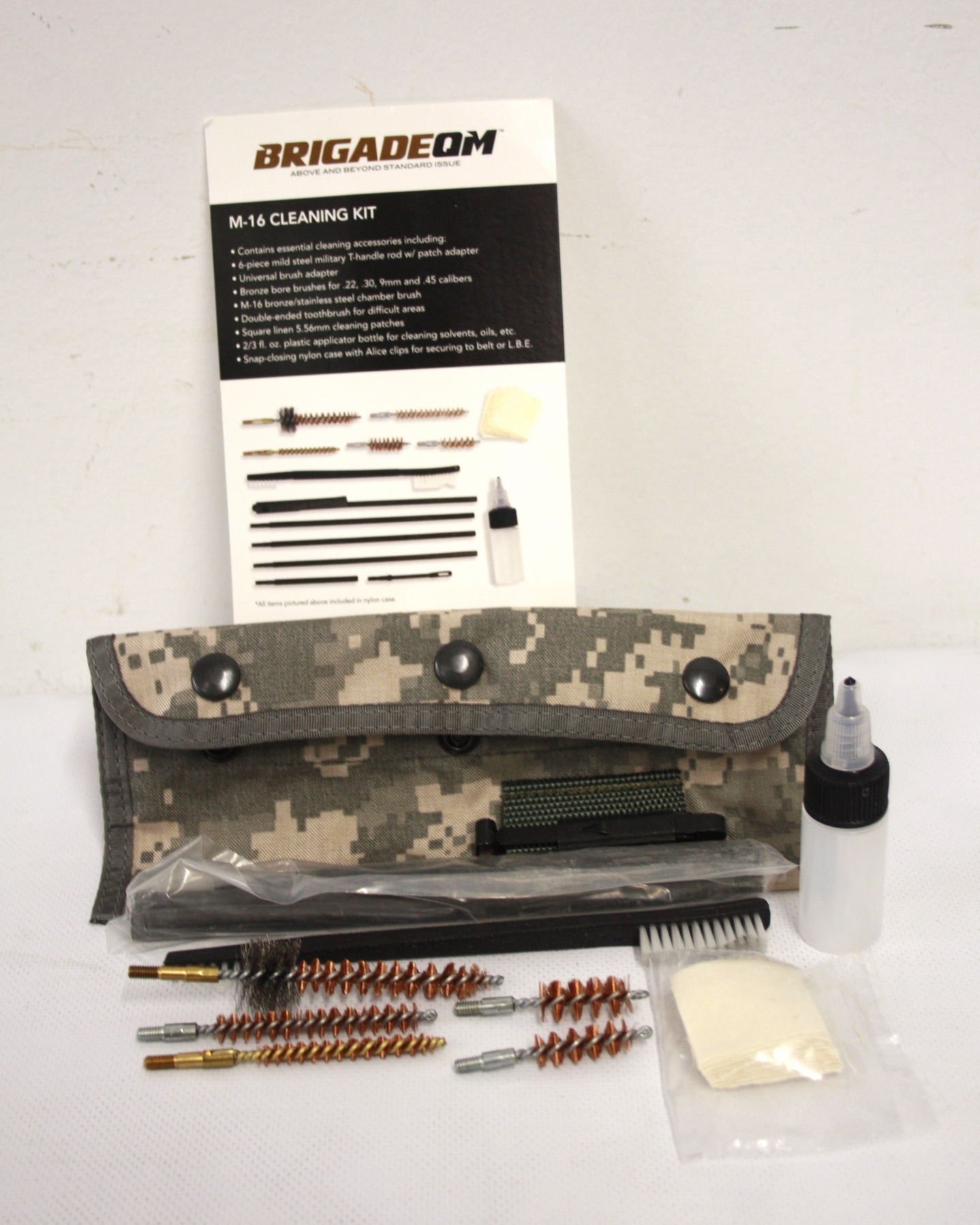 Weapon Accessories
BQM'S UNIVERSAL MILITARY RIFLE & PISTOL CLEANING KIT
Description
Brigade's Universal Field Gun Cleaning Kit is the standard military cleaning kit model used by the Army. The cleaning kit includes bronze brushes for cleaning M16/M4 as well as 9mm and .45 ACP combat pistols as used by the U.S. Military. Military issue nylon compartment LC1 Pouch snaps closed and attaches to field gear with an ALICE Slide Keeper. The mild steel T-Handle Rod screws together for various lengths required for the AR and pistol. The BOR30 Cleaning Kit Includes:
Mild steel military folding T-handle cleaning rod in sections

Threaded brush adapter for commercial brushes

Oil bottle

Double-ended nylon cleaning brush

1-3/8 square cotton patch bore swabs

223/5.56mm, 7.62mm/.30 Cal, 9mm, .45 cal bronze bore brushes

M16/ M4 chamber brush

LC2 nylon storage pouch with 2 snaps

ALICE attaching slide clip

Brigade Quartermasters Brand
Brigade Universal Military Cleaning Kit
Handle:T-type short rod,folds over
ROD:4 Pieces Mild Steel 8 x36 thread
End Piece TipSlotted Patch Adapter, .223 Cal 8 x36 thread
Tip Adapter:Allows use of commercial brushes 8x36 to 8 x 32
Brush:.223/5.56mm
BrushM16/M4 Chamber
Brush:30 Cal/7.62
Brush:.45 Cal Pistol
Brush:9mm Pistol
Bottle:Plastic, Empty 1/2oz
Patches:20ea- 1-3/8x1-3/8"
BrushDouble Ended Nylon Bristle
Pouch,StorageLC1 Type, Nylon w/ALICE Slide Attaching Clip
Have one of your own? Comment on this product in the additional info section!