Optics
Wolfhound 3x24 Prismatic Weapon Sight (SM13025)
Wolfhound 3x24 Prismatic Weapon Sight (SM13025)
Delivering flawless short- to medium-range shots on an AR platform, the Sightmark® Wolfhound 3x24 Prismatic Weapon Sight is ideal for a variety of challenging shooting situations including 3-gun competitions, hunting and law enforcement applications. The Wolfhound 3x24 Sight is a military-inspired, fast-paced optical device featuring longer than average eye relief and an advanced horseshoe dot reticle that's ballistically matched to .223, 55 and 62 grain with holdovers from 300 to 900 yards. Its fixed power keeps the object in focus at 10 yards or more.
Compact enough to not weigh down the rifle, but durable enough to shield from impact, the device includes a built-in aluminum picatinny mount and rubber armor finish. Fully submergible, the Wolfhound 3x24 Sight is 100% waterproof, dust proof and shock proof.
Have one of your own? Comment on this product in the additional info section!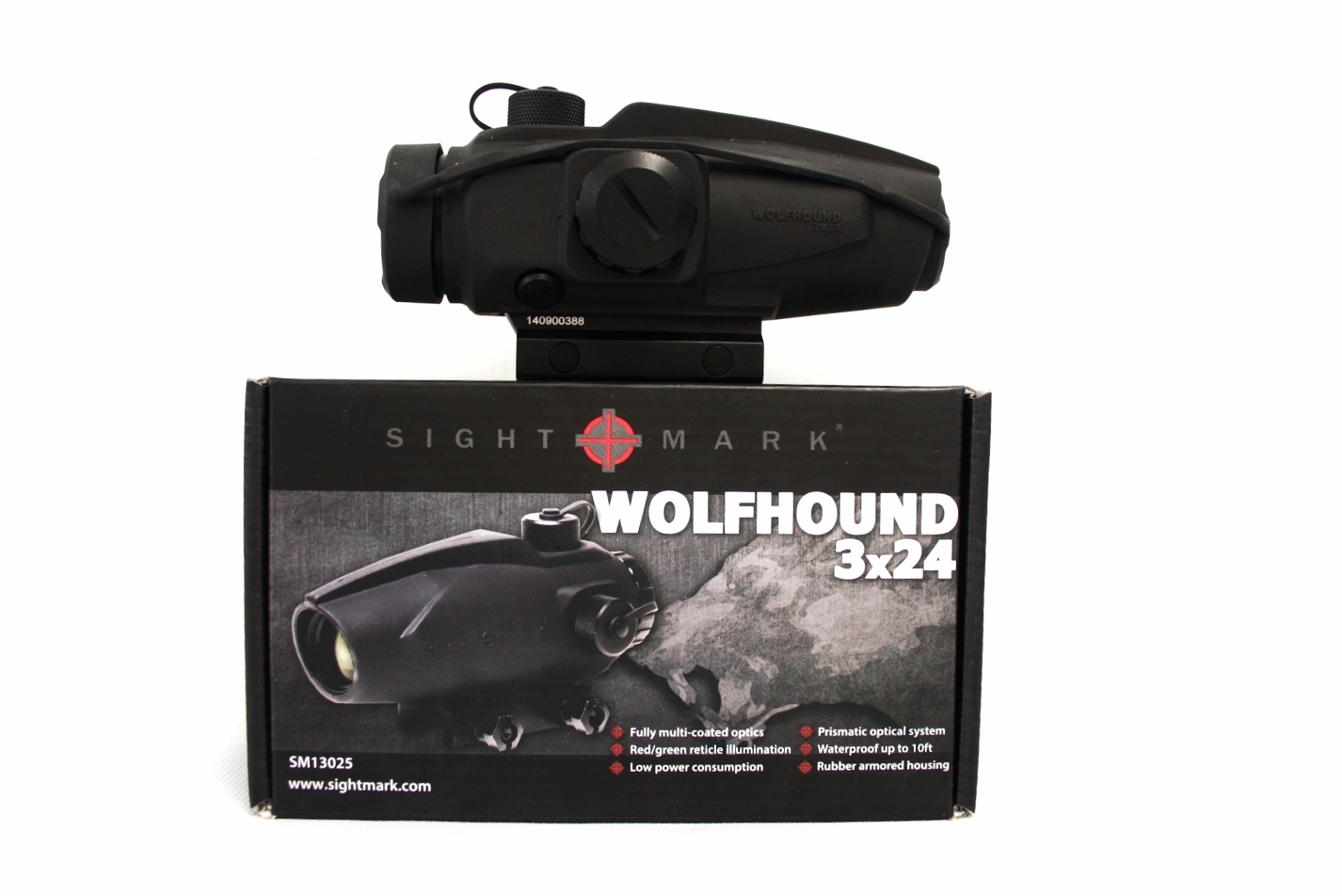 Additional Info
Product Specifications:
Reticle TypeHS-223 Reticle ColorRed/Green
Illuminated (Yes/No)Yes Reticle Brightness Settings5
Finish/ColorBlack Magnification, x3
Objective Lens Diameter, mm24 Eyepiece diameter, mm27
Exit pupil diameter, mm8 Eye Relief, mm72
Field of view (m @100m)10.48 Field of view (ft @100yd)31.6
Field of view (degrees)6 Diopter adjustment (+/-)+3 ... -3
Parallax setting (yds)100 Windage maximum adjustment range (MOA)180
Elevation maximum adjustment range (MOA)160 Windage & Elevation lock (yes/no)No
MOA adjustment (one click)1/2 Maximum recoil (G's)800
Exit pupil diameter, mm8 Eye Relief, mm72
Battery typeCR2032 Battery life (hours)200-4000
Battery voltage (V)3 Sunshade (yes/no)No
Waterproof/nitrogen filled (yes/no)Yes Shockproof (yes/no)Yes
Fog proof (yes/no)Yes IP Standard (water rating)IP68
Body materialAluminum - 6061 / RubberLens Material/typeGlass
Lens CoatingsFully multicoated AR green Mount typePicatinny
Operating Temperature (°F)-40 to 122 Dimensions, mm150x72x77
Weight, oz17.2